Assembly
After many years of listening to my husband curse and complain as he tried to wrestle our enormous artificial Christmas tree up from the crawl space into our living room...we decided to go out and buy a smaller, more manageable tree. One fast trip to Treasure Island later and we had our new 6.5 foot "narrow" tree sitting on the living room floor ready for assembly.
Tyler had fun helping his Daddy put the tree together (pre-strung with lights and MUCH lighter and easier to handle). Then Spartacus joined in the annual tradition of all the cats in our family...the taste test. Sparty seems to like his first Christmas tree. He doesn't seem to like getting sprayed with the squirt gun as I try to discourage him from nibbling and playing with the decorations.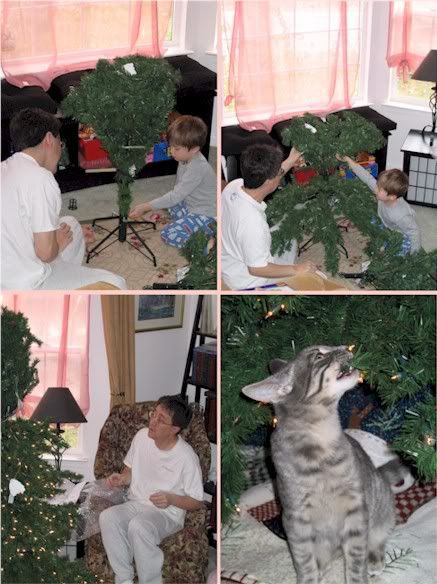 The good news is, with the new smaller tree, my decorations fill it up quite nicely. (The old tree ended up looking a tad naked.) The bad news is...the new tree is SO much smaller that it looks odd to me. I'm used to my entire front window being filled with tree. You couldn't see the window or my end table at all. In fact, you could barely walk into the living room because the tree extended out so far and blocked the path past the end of the sofa. LOL
What do you think? Big difference, no?
Hmm. I think I'll go make a fire, plop myself down on one of my new floor cushions, and stare at the tree. Maybe it will grow on me with time.