Nostalgia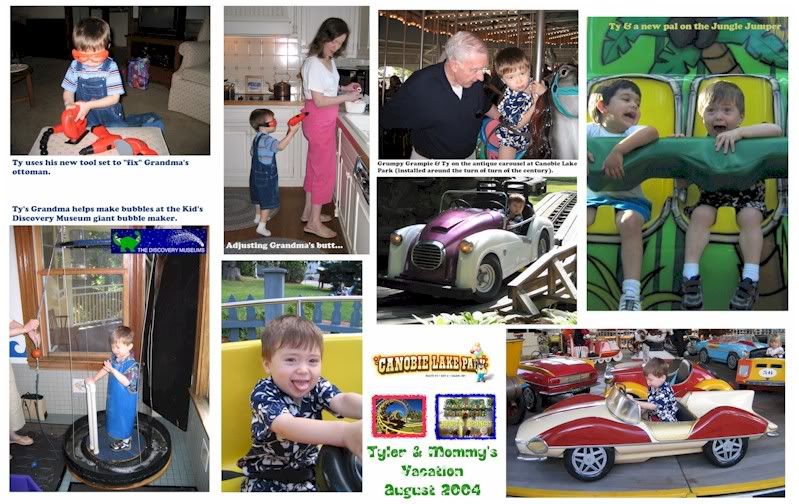 We're back! Tyler and I went to Massachusetts for a week to visit my parents and do some fun stuff together while his Dad was traveling on business. It was fun taking Ty around to some of the places I had fun at as a kid.
Canobie Lake Park
was a real treat. I haven't been there since probably 1982. It looked wonderful! They really keep that park up beautifully. You would never know some of the rides there have been around since 1902. They add something new almost every year too. I was sad to see that the "duck pond" was gone from the midway games area (I have such fond memories of picking up those rubber ducks and winning cool prizes).
Canobie has a huge selection of kiddie rides, so Tyler had lots to choose from. We never did make it onto all the rides he COULD have gone on. Ty is obsessed with the "car" style rides and had to go on them 2, 3, even 4 times in a row. What a kid! I had to diffuse a couple of toddler melt-downs when he didn't want to leave particular rides to give the other kids a turn. I was able to ride a few of the rides with him, which was really great. It's usually hard to find rides that I can fit on.
One of the newer rides they have that certainly wasn't around in my day was this incredible corkscrew style inversion rollercoaster. We sat on a bench just feet away from the start of the corkscrew spiral and Tyler watched in awe as the cars rushed by carrying the screaming masses. "I wanna go on THAT one!!" I had to explain that the ride was just for bigger kids. "I *AM* a big kid!" Who can argue with toddler logic?? To make up for the rollercoaster disappointment, I took him down by the lake to the Jungle Bouncer. Ty felt the need to make that ride EXTRA fun by screaming just like the big kids do on the big coasters. I was laughing my ass off! The other Moms watching him were also giggling at his enthusiasm. What a kid!! (Check out the Jungle Bounce photo above to see Ty in full "scream" mode. Too funny...)
p.s. Thanks to Kas for "missing" me! It's nice to know that someone was wondering where I went when my journal updates stopped for a week. LOL